ROMANTIC ACCOMODATION
with

A WINE CELLAR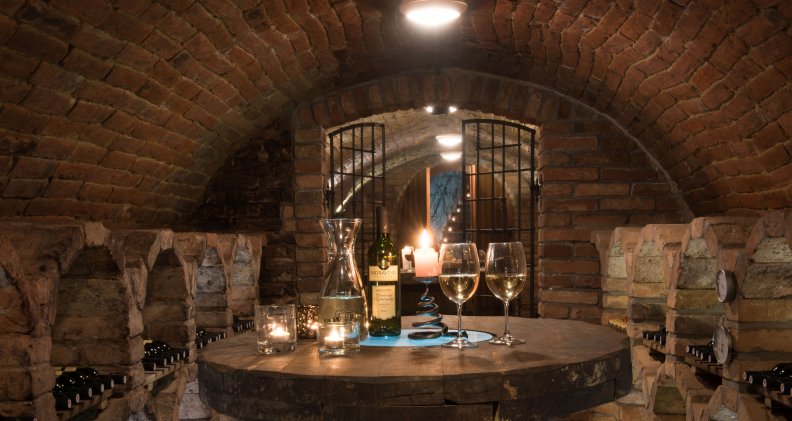 Services
PARKING
Our guests can use a closed car park for two cars and bicycles situated behind the house.
KITCHEN + AIR CONDITION + WI-FI
The main space of the residence is air conditioned with possibility of internet connection. A fully equipped kitchen including electrical appliance and all dishes is available
WINE CELLAR + WINTER GARDEN
Under the residence, there is a private cellar with possibility of tasting delicious wines from Valtice, Poysdorf and other wine towns. You can enjoy your wines sitting in glassed winter garden as well.
Terroir of the Valtice region
Terroir of the Valtice region is utterly specific and inimitable with character of produced wine in comparison with other Moravian viniferous trails. What is the uniqueness of the " terroir of Valtice"? It is necessary to look for the answer in long geological past, when bottom layer of present Valtice vineyards was formed. Greater part of the vineyards lies in the areas south from the town on border spine spreading from the village of Sedlec to the Austrian Katzelsdorf. Characteristic of these trails is very deep loess, which is an advantage in the first years in the life of vineyard and limestone sediments in lower layers loved by grapevine in its maturity. This is the reason why the Valtice wines with their origin mostly in older vineyards have inimitable mineral undertone supported by robust body based on the loess basis of fertile South Moravia.
The important part of wine terroir is the skill of people and tradition of wine growing. Wine is companion of mankind from time out of mind and people have always treated it with respect and humility. In the central European area grapevine was grown by our Celtic ancestors and it seems that Celts breathed genius loci connected to wine growing into Valtice fold forever.
The best viticulture experts claim that top wines should ripe under roman arch, it means in classical wine underground vaulted cellar. Long go fame of Valtice cellars spread over borders of Morava and Czech Republic. Only few wine lovers know that wine is produced, treated, and stored in more than five hundred and fifty cellars.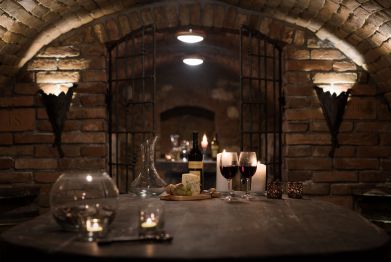 Sunshine, global year temperature and precipitation are one of the conditions for physiological ripening of grapes. Valtice situated in the southest tip of Czech Republic is one of few towns reaching average values - year temperature over 9°C, precipitation over 550 mm and more than 2 thousand hours of full sunshine.
Our cellar
Wine cellars and their architecture form an independent chapter in the history of viticulture. Most of them were hollowed in sandstone or hard loamy clay in Moravia. Other wine cellars have stone, brick, or combined vaults. Cellar of Residence Adalbert was made by circling- tunnelling into the slope in Josefská Street and consequently vaulting using burnt bricks and limestone (connecting corridor and front part). It is a typical Valtice cellar constructed using burnt bricks from near princely brickworks. Witness is discovery of marked bricks with mark HF.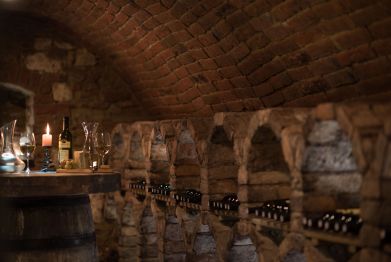 We can suppose that at the time of construction was made just little room in front of the cellar, connecting corridor and front part of cellar. The cellar probably served storage of agricultural products, especially root vegetables, harvested in pieces of land behind the cellar.
Age determination of this period is very difficult because no records exist. Nevertheless it is possible to assume that it is early 19th century. In later period (1820) the cellar was deepened, vaulted, and small press house was built. Since that time it served to some of German wine growers for production and storage of wine. The cellar is 14 meters long at present. Constant temperature 10-14°C is ensured by the thickness of mould over the cellar (5 meters). It is aerated by 3 vents. In the press house wine was pressed after harvest and it was treated and stored in cellar itself in barrels. Wine cellars and press houses were built near vineyards. In our case wine trails Hintertály and Upper Quarters lie near street Josefská.
Lately the wine buildings, especially the winepress houses are rebuilt. The winepress houses are transformed into the rooms for wine tasting and nice sitting. Cellars are used for storage of bottled wine. Over the winepress house, new apartments for staying overnight are built. The residence Adalbert is not exception: in 2016, a luxury apartment with area 140 m2 containing two bedrooms, a sitting room, a winter garden, a closed car park, and above all with a historical wine cellar was built over the winepress house.
Our wines
For guests of Residence Adalbert we have prepared wines from wine producers, who regularly gain success at prestigious inland and foreign exhibitions. Fundamental part of our offer consists of wines from Valtice wine producer Luděk Budín, whose company Moravíno s.r.o. in the long term belongs among the most successful wine companies in Czech Republic. MORAVÍNO s.r.o. cultivates 17 hectares of its own vineyards. The vineyards are located in outstanding wine trails - Katzelsdorfer field, Below Reisten, and Princely View, which give grapes incommutable opulence of taste aroma and harmony as christening. Modern technologies with implementation of maximum consideration and minimum interventions during treatment with the rare material enable acquiring white, red, and rosé wines, which do not let any consumer stay indifferent.
As a counterpart of wines from Mikulov sub-region we chose for comparison wines from Austrian winery Neustifter from Poysdorf.  The winery lies in Lower Austrian region Weinviertel. Priority for owners of the winery Karl and Brigitte Neustifter is loving care of grapevine and work in their vineyards. " We transfer nature of wine into every bottle", explains Karl Neustifter his attitude to viticulture. The Neustifters have been cultivating 24 hectares in Poysdorf and its surroundings for three generations.
Collection of wines from the company Moravíno and Weingut Neustifter will be regularly supplemented by the best wines from Wine Salon of the Czech Republic so our guest could compare attitude of best wine producers to wine cultivars typical for this wine region.